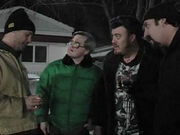 'The Darkest One'
is a song by Canadian band, 
The Tragically Hip
. Ricky, Julian and Bubbles appeared in the music video.
The video begins with Julian and Bubbles and a character named Gord (Gord Downie, lead singer of the band) waking up Ricky. They tell him they are going to steal an engine for Gord's car in exchange for take-out chicken. The music begins, and the boys wait for their chicken dinner, which is delivered by someone who looks suspiciously like Don Cherry . But before they can eat, they have to steal the engine.
While the band plays in his trailer, Gord hangs out with a bunch of Bubbles' kitties and the boys break into the hood of a nearby car. Gord takes the old engine out and the boys haul the new one to the trailer in a shopping cart. They discover the the kitties have eaten the buckets of chicken while they were working. In a moment of clever manipulation, they call the chicken place back complaining that the buckets were empty when they were delivered, and Don Cherry returns with a new order. The boys short-change the man and they scuffle. He leaves, and they eat the chicken and finish work on the engine, then take it for a spin.
Song Background
Edit
The song was featured on the 2002 album 'In Violet Light' and was the second single from the album.
Ad blocker interference detected!
Wikia is a free-to-use site that makes money from advertising. We have a modified experience for viewers using ad blockers

Wikia is not accessible if you've made further modifications. Remove the custom ad blocker rule(s) and the page will load as expected.