Randy is the biological son of Lucy and Randy, who was conceived after Randy and Lucy had sex a couple of times the Saturday when Ricky and Ray spent the weekend in the drunk tank (the second time). Initially, it was believed that Ricky was the baby's father, until Ricky realized Lucy was six months pregnant and the pair hadn't had sex in seven months.
The whereabouts of baby Randy following the events of "Say Goodnight To The Bad Guys (Special)" were not known until early 2015, when the Facebook page for the Trailer Park Boys stated that "Randy sent him to live with relatives, as he doesn't want any influence coming from Ricky."
This was later addressed directly in the Season 10 premiere episode "Freedom 45", where Randy revealed that once he realized he was not welcome in Ricky's family (and due to what Randy viewed as Ricky's overwhelming negative influence), he and Lucy gave the baby up for adoption.
Appearances
Edit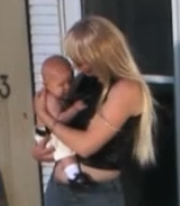 Season 7

Edit
Although he is mentioned several times during this season, he is never seen since Lucy is still pregnant at this point.
A Shit River Runs Through It Edit
He is seen in this episode with Lucy talking about how happy she is about the outcome of everything and she's holding him close to her, his face isn't seen.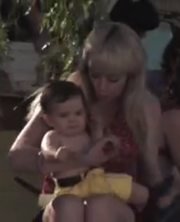 Say Goodnight To The Bad Guys
Edit
He plays his biggest role in this episode as Randy comes to hug his son and gets grease all over the baby. Lucy scolds him and goes off to clean him off while Ricky beats Randy and sprays him with a hose for his carelessness.
Baby Randy has a short and simple timeline being born in the Season 7 finale and seen in Say Goodnight To The Bad Guys and an unknown existence from Countdown To Liquor Day.
Living Arrangements
Edit
He is known just to live with Lucy in Season 7 and the same with Say Goodnight To The Bad Guys with Randy being a co-father, therefore, giving him his only known name: Baby Randy.