Baby Ray (Later known as "The Motel") (Portrayed by James MacKay in seasons 10&11) is the son of Trinity and Jacob Collins, the first born grandson of Ricky and Lucy, grandson of Phil Collins and great-grandson of Ray.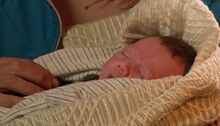 In Season 8 Episode 3 "The Dirty Dancer", Trinity announces that she is pregnant to Julian. Skeptical of telling her father, Ricky, Julian encourages that she needed to tell her father "before he finds out from someone else".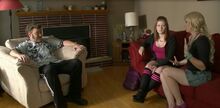 Later on in the Episode, Julian suggests that Ricky spend time with Trinity. Trinity and Ricky drive to George Green's home together where Trinity and Lucy lived during that time. Lucy accompanies Trinity as Lucy announces to Ricky that she has been dating a guy for a couple of months and that Trinity has something that she needed to tell him, but he had to "Promise not to get upset." Trinity then tells Ricky that she is pregnant, and that Jacob Collins is the father. Ricky is not happy that Jacob is the father and becomes angry and threatening towards him, and is very hard on him for the remainder of Season 8. During this time, Jacob tries to prove himself to Ricky that he loves Trinity and is trying his best to transition into fatherhood, but as expected, Ricky doubts him for his intelligence level and irresponsibility.
In Season 9 Episode 1 "Why In The Fuck Is My Trailer Pink?" Trinity is shown to be at least 8-9 Months pregnant.
It is unknown at this point the gender of Trinity's baby, but often refer to the baby with male pronouns or what Ricky refers to the baby as his "Unbornt Gramson".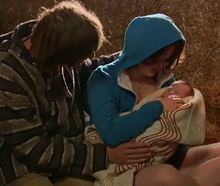 In Season 9 Episode 3 "Anointed In Liquor", Ricky, Trinity and Jacob are camping in a barn after being told Ricky is no longer welcome in Sunnyvale Trailer Park. Trinity is worried that Ricky will not find a stable place for their family to live. Ricky Assures Trinity that he will find a new place to live and promises her that her baby will not be born in a barn. Unfortunate for Trinity, later in the episode she cries for her father's help over the radio that her water broke while Julian, Bubbles, Ricky and Jacob are out stealing tires and robbing a gas station. They quickly rush to Trinity's rescue but are stopped by a farmer that fires his rifle at the boys. Ricky is shot by the farmer and he screams that his daughter is giving birth in his barn. The farmer rushes to the barn to help deliver Trinity's baby after he tells the boys that he has "delivered calves before." Trinity soon gives birth to what Jacob announces is a baby boy. The boys are overwhelmed with emotion that Ricky is now a grandfather to a baby boy. Trinity is later taken to a hospital for proper medical care and observation, and in Season 9 Episode 4 "George Green: Industrial Cock Inhaler" Trinity announces to Ricky that the babies name is "Ray" after his late Great Grandfather Ray. Ricky is thrilled by the naming of his grandson while Jacob fills out the birth certificate application, where he adds the babies name and home address.
In Season 9 Episode 5 "The Motel Can't Live at The Motel", after George Green calls Child Protective Services on behalf that Trinity and her family are living at the Motel Julian bought, a social worker approaches asking where "The Motel" is. Everyone is confused as they are standing outside of a motel, but after Lucy asked the social worker what she was talking about, it turns out that Jacob screwed up on the babies birth certificate application, and where it asked for a name, Jacob put "The Motel" and under address he put "Ray". At this point, everyone is angry at Jacob while Trinity is optimistic about calling the baby "Mo". For the remainder of season 9, everyone refers to the baby as "Baby Motel" or "Mo".
Ad blocker interference detected!
Wikia is a free-to-use site that makes money from advertising. We have a modified experience for viewers using ad blockers

Wikia is not accessible if you've made further modifications. Remove the custom ad blocker rule(s) and the page will load as expected.