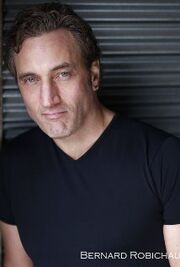 Bernard Robichaud
is a Boston-born former model who found his second career as an actor after being recruited by a Toronto talent agent. After taking acting lessons, he began to work in theatre and radio (in one broadcast playing both a man and a woman) and was eventually cast as the role of
Cyrus
for Trailer Park Boys.
Bernard also toured North America with his "Who Needs Grade 10? I'm a Public Speecher!" performance, a portrayal of an uneducated convict bearing striking resemblance to his well-known character. Robichaud has also written several screenplays and is currently working on a sitcom he's developing called "The Adventures of Black Bart".
Ad blocker interference detected!
Wikia is a free-to-use site that makes money from advertising. We have a modified experience for viewers using ad blockers

Wikia is not accessible if you've made further modifications. Remove the custom ad blocker rule(s) and the page will load as expected.