Brian Vollmer
is the lead singer of Canadian band
Helix
, famous for their 1984 single. "Rock You."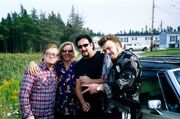 Appearances
Edit
Brian has appeared in the Trailer Park Boys franchise twice. The first was in a deleted scene in season three, where the boys help him with his car.[1]
His second appearance was in Trailer Park Boys: The Movie where he was credited as 'Randy's $15 John'.
Vollmer also appeared on stage with the boys during the Hamilton, Ontario performance of their second live show on March 8, 2010. His season 3 deleted scene can only be watched if you buy Trailer Park Boys: Season 3 on DVD and watch the deleted scenes his being the most popular of the deleted ones from that Season. It was not clear who Randy's $15 John was but it was paid by Brian Vollmer but Randy seemed to know him from the past as well as the rest of the boys.[2]
↑ http://www.youtube.com/watch?v=cuF2T-v9rPs Official Brian Vollmer YouTube broadcast, talking about appearing on the show.
↑ http://www.youtube.com/watch?v=rCcoG_zyhGU YouTube Video of Brian's March 8, 2010 stage cameo appearance.
Ad blocker interference detected!
Wikia is a free-to-use site that makes money from advertising. We have a modified experience for viewers using ad blockers

Wikia is not accessible if you've made further modifications. Remove the custom ad blocker rule(s) and the page will load as expected.