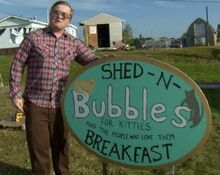 Bubbles Shed-N-Breakfast is a lodging business started by Bubbles. The motto of the business is "For kitties and the people who love them."
His plans to open the Shed-N-Breakfast were announced in Season 8 Episode 1 "Money Can Suck My Cock". He wanted to create a place where people could have a resort style vacation where people could bring their kitties with them. Julian questions Bubbles whether there was a demand for that kind of business, and Bubbles told him that one of the major drawbacks was that most people that want a vacation can't go because they have no where to keep their kitties, and Bubbles wanted to make it happen.
The Shed-N-Breakfast was built for four sheds available for rent. Some of the accommodations of Bubbles Shed-N-Breakfast were pancakes and all you can eat home made maple syrup, full hook up of power, air conditioning, and high speed internet.
In Season 8 Episode 5 "Whore-A-Geddon", Bubbles almost has his very first customers, but they are scared away by Ricky's destructive behavior. He seeks help from Julian before Steve Rogers from channel 10 approached Julian about hosting a stag party at Julian's Sports Bar and Gym. After having zero success in business at the Shed-N-Breakfast, Bubbles vents his frustration that Julian is distracted by the stag party rather than helping him boost business. Julian promises Bubbles that he will help, as long as he helps him with the party. Later on, Tyrone suggests that Bubbles rent out his sheds to Steve Rogers and his friends by the hour, so they could have fun with ladies. Bubbles is not pleased by this proposal, but is persuaded by Julian to do so in order to make money to save the park.
In Season 8 Episode 6 "Friends With The Benedicts", Bubbles discovers that there is a crabs infestation in the sheds and on his kitties after the Fiancee of Steve Rogers causes a scene that she found them crawling around in their bed. This causes Bubbles to close down and turn the business into a quarantined zone so he could get rid of the infestation.
In Season 8 Episode 8 "The Super-Duper-Industrial-Bubbles-Honey-Oil-Inator", Talk-o dies after being sucked into the air conditioner of Ricky's trailer, putting his weed in danger of becoming damp and moldy. Bubbles feels that the last chance to save Ricky's weed and Sunnyvale is to turn his sheds into a honey oil refinery. This causes the initial collapse and end of Bubbles Shed-N-Breakfast business.