This article is a little fucky! Trailer Park Wiki needs someone to clean this up.

Reason: content copied from Wikipedia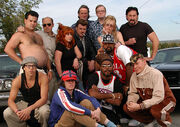 Trailer Park Boys Character List
Ricky (played by Robb Wells) is a central character in the show, and his main cohorts are Julian and Bubbles. Ricky is also known to have been shot multiple times, and survive other disasters that would normally be fatal, such as being electrocuted or being inside a trailer when it blew up and suffering a fatal heart attack.
Julian
(played by
John Paul Tremblay
) is considered the main protagonist of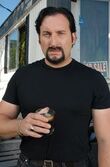 the show, part of the triumvirate with
Ricky
and
Bubbles
. He is generally considered the 'brains' of the park, the one who gets things done, the protector of the park residents, and the go-to-guy for problem solving. However, he gets himself in loads of trouble in some seasons.
Bubbles (portrayed by Mike Smith) is one of the three main characters on the show along with Julian and Ricky. He is know for his thick glasses, and his love of kitties. He is the smartest of the trio and is usually the one who talks sense into Ricky when he finds himself in a gun fight. His main income is made by salvaging old abandoned shopping carts.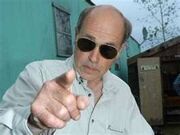 Jim Lahey (played by John Dunsworth) is the former police officer turned trailer park supervisor for Sunnyvale Trailer Park. Jim Lahey is the main antagonist and always tries to stop any of the boys' plans. He is known for being a drunk. Many times does he try to quit the liquor, but the boys drive him to turn back the  booze. He is in a romantic relationship with Randy
Randy (played by Patrick Roach), for the most part, acts as the assistant trailer park supervisor alongside his partner Jim Lahey. Randy is also known for being able to eat fifteen cheeseburgers in one sitting, and has apparently done so on multiple occasions. When not being able to afford cheeseburgers, he prostitutes in order to obtain them. AKA butch Cassidy and "The Sundance Cheeseburger". -J to the R.O.C.
Ad blocker interference detected!
Wikia is a free-to-use site that makes money from advertising. We have a modified experience for viewers using ad blockers

Wikia is not accessible if you've made further modifications. Remove the custom ad blocker rule(s) and the page will load as expected.