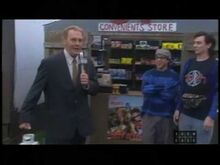 This small store conducted business out of a wooden shed about the size of Bubbles' and was a joint venture of Cory and Trevor overseen by Sarah. The name of store, which is written on a banner just below a large 'C & P' in red block letters, is clearly misspelled as 'Cory And Trevor's Convenients'.
Cory and Trevor started the venture because they were tired of being told that they couldn't hang out at other convenience stores, and also because they wanted to become more independent and not rely on Ricky and Julian so much when it came to their own choices. Clearly, the two boys were dedicated to running the business and on some occasions opted not to come at the beck and call of Ricky in favour of minding the store.
Items sold at the store consisted of mainly snack food items and cigarettes, as well as air fresheners and rolling papers. However, it was also revealed during the interview with Steve Rogers of Channel 10 that they also sold bootleg DVDs of movies not even out yet as well as single cigarettes. Since both items are illegal to sell, the interview was halted as the store was clearly not a 'viable business', but not before Sarah attempted to clear up the mistake on camera. The store seems to have ceased operation shortly thereafter.