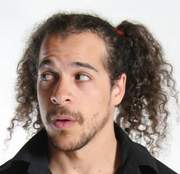 Cory Bowles, who plays
Cory
in the series, was born on August 27, 1973 in Montreal.
He is mainly known for being a dancer, choreographer and teacher at Maritime Dance Performance Group, Halifax Dance, Jazz Bliss and continues to choreograph for his own dance company, "Verve Mwendo".
He has also played in bands called Aide De Camp, Dream Brother and was the MC of the Nova Scotia based hip-hop group "Hip Club Groove".
As an actor, he has had numerous bit parts in Canadian productions in addition to his work on Trailer Park Boys, including narrating the childrens' series "Poko". He also wrote, directed and produced a short film called "Scavengers" in 2008.
Ad blocker interference detected!
Wikia is a free-to-use site that makes money from advertising. We have a modified experience for viewers using ad blockers

Wikia is not accessible if you've made further modifications. Remove the custom ad blocker rule(s) and the page will load as expected.