Donny is a character in Trailer Park Boys that is usually never seen. Everytime something happens (ex. A gun shooting, a car crashing) you'll hear him scream something. He is voiced by Mike Smith.
Things he screams
Edit
WHAT IN THE FUCK!?
FUCK OFF WITH THE GUN!
STOP FUCKIN' FIRING!
FOR THE LOVE OF FUCK!
JESUS CHRIST!
I'VE BEEN FUCKIN' SHOT!
FOR FUCK SAKES!
GET OFF THE STAGE, YOU DRUNK BASTARD!
I PAID FOR IT!
YOU FUCKIN' IDIOTS!
FOR FUCK SAKES, RICKY! WHAT THE FUCK ARE YOU DOING WITH THE SATELLITE?! I PAID 10 FUCKING DOLLARS! I WANT MY FUCKING SATELLITE SIGNAL!
10 FUCKING DOLLARS, A MONTH!
GET YOUR HANDS OFF IT! I PAID FOR A LADY, NOT FUCKING CORY AND TREVOR!
WHO'S RUNNING THIS FUCKIN' TRAILER PARK!?
JESUS H CHRIST!
BRENDA, YOU SHUT THE FUCK UP!
COCK FLIPING FUCKIN' BASTARD!
I DON'T KNOW, WOULD ANYONE HERE, LIKE TO SUCK MY COCK!?
JESUS CHRIST BOYS, GET OUT WITH THE FUCKIN' ERECTION!
WHO IN THE FUCK, STOLE MY GOOD CLOTHES!?
HAVE ANOTHER DRINK, RAY!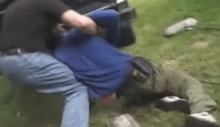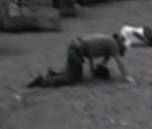 In the original Trailer Park Boys movie and season 1, He was the soundman.

Ironically, both times you hear him, he's been shot.
Ad blocker interference detected!
Wikia is a free-to-use site that makes money from advertising. We have a modified experience for viewers using ad blockers

Wikia is not accessible if you've made further modifications. Remove the custom ad blocker rule(s) and the page will load as expected.