George Green
(who is named after
the actor who plays him
) is a local cop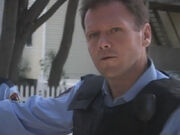 who frequently comes in contact with the boys in the trailer park.
Background
Edit
George Green was at one time Jim Lahey's partner when Lahey was still a cop. It was George who was responsible in part for having Jim thrown off the force for mistakenly thinking Jim was drunk and crashed his car into a trailer, when in fact it was the result of a prank by Ricky, Julian and Bubbles. ("Halloween 1977")
Love Life
Edit
George succumbs to Lucy's wiles in season six, and Ricky stumbles upon him half naked and handcuffed to her shower rod in her trailer. ("Gimme My Fuckin' Money Or Randy's Dead") Later he downplays the tryst to his partner stating that it didn't count because he was drunk and high. ("I Banged Lucy And Knocked Her Up... No Big Deal")
In Season 8, George and Lucy are also dating and living together during this season, but in Season 8 Episode 6 "Friends With The Benedicts" Lucy and Ricky are having a sexual relationship behind George's back while he is doing undercover work. In Season 9, Lucy is on and off with George during Trinity's pregnancy and leading to the birth of her grandson, because Ricky cannot find a stable place for Lucy, Trinity and the baby to live. In Season 9 Episode 9 "Sam-Squamptches and Heli-Cocksuckers", Lucy ends the relationship with George and moves back to Sunnyvale with Ricky and her family. George let her go after saying to Lucy "You're never going to love me the way you love Ricky. Go and be with your family."
Characterization
Edit
George as a Cop
Edit
George is not a great cop, and most of the park residents agree that he is the dumbest cop on the force. ("Conky", "Workin' Man") His first run in with the boys sets the tone for his character when he comes upon Ricky and Julian trying to load stolen car parts into a vehicle. Ricky tells him that they are part of their monthly job evaluation and George falls for it. ("Take Your Little Gun And Get Out Of My Trailer Park") This happens time and time again, and it's clear that George can be easily influenced.
In later seasons, George was partnered up with Officer Ted Johnson. The two men were instrumental in helping Jim Lahey's plight to get back on the force and welcomed him when it was successful. ("Gimme My Fuckin' Money Or Randy's Dead") In time however, the two officers began to abuse Jim on the job by giving him all the shit jobs (at the time, George seems to be the shift captain) and making him fill out their paperwork. ("I Banged Lucy And Knocked Her Up... No Big Deal") When Jim rebels against them by failing to file a search warrant for J-Roc an Lucy's trailers, the two beat him, Randy and Phil Collins up with telephone books and stage it as an accident. Jim gets back at them with an elaborate plan to trick the two of them into beating up Ray and capture it on film. The operation is a success and the two men are brought up on charges and sentenced to five years in jail. ("Three Good Men Are Dead") He is reinstated in season 8 revealed in ("Crawling Through The Shit Pipe")that he has been an undercover cop for 9 months.In season 11 it is revealed George has been promoted to chief (Darth Lahey).George stays chief until he is arrested for Money Laundering, Insurance Fraud, and Theft Of Evidence ("The All You Can Eat Shit Buffet")
Jail Times
Edit
Three Good Men Are Dead (Episode)-5 Years
The All You Can Eat Shit Buffet (Episode)- Unknown
Ad blocker interference detected!
Wikia is a free-to-use site that makes money from advertising. We have a modified experience for viewers using ad blockers

Wikia is not accessible if you've made further modifications. Remove the custom ad blocker rule(s) and the page will load as expected.