This article is about the actor. For the character he plays, see George Green.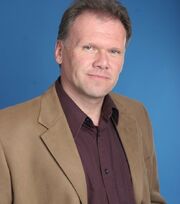 George Green plays the police officer of the same name. He currently resides in Nova Scotia, and is also a licensed real estate agent.
George has appeared in fourteen Trailer Park Boys episodes and three TV mini productions. In addition to these, he has also acted in various capacities in films such as "The Legend of Bagger Vance" and "Trudeau", and most recently has has acted in and produced a film called "The Strawberry Blonde." Not only did him and His partner's character play minor roles in Trailer Park Boys: The Movie but they both had small cameos at the end of Trailer Park Boys: Countdown To Liquor Day "This is George Green, fuck off!" Bubbles.
Ad blocker interference detected!
Wikia is a free-to-use site that makes money from advertising. We have a modified experience for viewers using ad blockers

Wikia is not accessible if you've made further modifications. Remove the custom ad blocker rule(s) and the page will load as expected.