Julian's Sports Bar and Gym
is
Julian
's new operation for season 8. He says he doesn't need a liquor license as all drinks are free and customers make donations in a bucket.
Bubbles
found the legal loophole for Julian. The bar is soon made into a strip club and rebranded "The Dirty Dancer" for the remainder of season 8. In season 9, Julian returns from jail to find
Barbara
has turned the bar into a spa.
Trinity works in the bar as a cocktail waitress.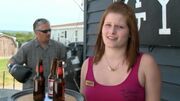 The Dirty Dancer
Edit
In "The Dirty Dancer," Julian recruits Sarah, along with J-Roc and his crew to turn the bar into a strip club. Julian sends Cory and Jacob to steal poles for the stages, Sarah recruits dancers and J-Roc provides live music. Bubbles names the club The Dirty Dancer, a reference to Julian's love of the movie Dirty Dancing referenced in earlier episodes. Julian reluctantly accepts the name. The club is a huge success, and Sarah and Tyrone soon become Julian's most trusted employees. The change to a strip club pays off, in "Whore-A-Geddon" Julian makes over $4200 after hosting Steve Rogers' stag party, using the strippers as prostitutes.
Ad blocker interference detected!
Wikia is a free-to-use site that makes money from advertising. We have a modified experience for viewers using ad blockers

Wikia is not accessible if you've made further modifications. Remove the custom ad blocker rule(s) and the page will load as expected.