Kermit is one of the Bottle Kids in Sunnyvale Trailer Park. He is in the episode 'Dressed All Over And Zesty Mordant (Episode)'. He Accompanies Trinity when she is driving the Shitmobile. Nothing is known about his background, parents, etc. He hasn't been seen in any other episode.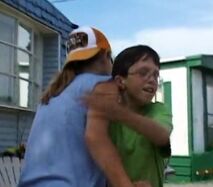 Ad blocker interference detected!
Wikia is a free-to-use site that makes money from advertising. We have a modified experience for viewers using ad blockers

Wikia is not accessible if you've made further modifications. Remove the custom ad blocker rule(s) and the page will load as expected.