The King of Donair (K.O.D./KOD) is a local resturant near the Sunnyvale Trailer Park that sells Pizza and donairs and opens daily at ten in the morning.  King of Donair is a regional chain with multiple locations around the greater Halifax area.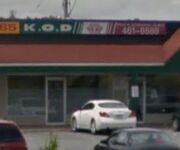 Randy
 once regularly cruised the King of Donair during his days as Smokey, a cheeseburger-driven male prostitute in shirtless cowboy garb, and did so again when
Lahey
 announced his intention to remarry 
Barb
, causing Randy to dump him. Randy's excuse for doing this was that a "
man's gotta eat
". ("
Workin' Man
")
Julian briefly lived behind the King of Donair while escaping from the various fraudulent activities Ricky put in his name while acting as Park Supervisor. The supervisor's car Julian was given had run out of gas at this location, and he pushed it to the back parking lot near a dumpster, and stated he was going to live there from now on. He spent a short time there, drunk on swish until coaxed back to the park by Bubbles . ("A Man's Gotta Eat")
At the same time Julian was living there, Officers George Green and Erica Miller did a shakedown on local johns, with Erica working undercover as a prostitute. ("A Man's Gotta Eat")
Ricky, Julian and Bubbles later patronized King of Donair after Ricky was almost killed by Lahey and needed something to eat. This was prior to harvesting their dope field near Highway 5. Detroit Velvet Smooth, J-Roc and T also visited this location to confront the boys about the dope and the local police discovering the fields. ("Workin' Man")
Ad blocker interference detected!
Wikia is a free-to-use site that makes money from advertising. We have a modified experience for viewers using ad blockers

Wikia is not accessible if you've made further modifications. Remove the custom ad blocker rule(s) and the page will load as expected.