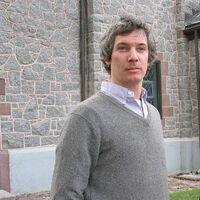 Michael Jackson is the actor who portrayed
Trevor
, and who left the show after season six.
Background
Edit
Michael Jackson was born on November 8, 1970, and grew up in Dartmouth, Nova Scotia.
He began working on "Trailer Park Boys" as an actor, but ended up being hired as the key grip for season 2, he left that position after about 2 weeks of trying to act and grip without any other grips or electrics, He continued to serve as a crew member on numerous other productions. Presently, he works as a grip on commercials.
He also is a recording engineer, and is a multi instrumentalist, having been a part of many bands in the Halifax area.
Leaving TPB
Edit
In May 2007, Jackson posted a lengthy piece of writing to his MySpace page, explaining his departure from the show. In it, he details a growing dissatisfaction with various elements of the production, including wages, plotlines, and the fact that they had many of the crew doing multiple jobs, including serving as actors on the show. Citing a lack of enjoyment in general, he left the show with a year left on his contract, but was not subject to legal action for breach of this contract.
Later, Jackson amended and edited his original writing, issuing an apology to those cast mates he felt he might have offended, stating that any such offence was unintentional.
Trevor and Cory were written out of season seven, and it is explained that stress from having to grow dope under Ricky's instruction sent them to a mental institution. Cory later returned for season 8 without Trevor.