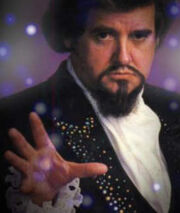 We assume that
Ricky
gained the unwanted nickname of 'Reveen' due to his vague physical resemblance to real-life personality
Peter J. Reveen
, a hypnotist and showman hailing from Australia but performing mainly in Atlantic Canada. His stage name was 'Reveen, the Impossiblist.' He has appeared on David Letterman, and also produced a series of self-hypnosis CDs for such purposes as quitting smoking and overeating. Peter died at the age of 77 on April 8. 2013 after a battle with diabetes and dementia.
Ad blocker interference detected!
Wikia is a free-to-use site that makes money from advertising. We have a modified experience for viewers using ad blockers

Wikia is not accessible if you've made further modifications. Remove the custom ad blocker rule(s) and the page will load as expected.