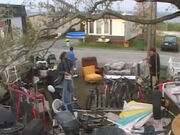 Ricky's Used Shit
was the name of an
business
operated by
Ricky
in an effort to obtain general funding to provide for his family. Most of the materials sold were either stolen after Ricky (or Trevor) would put items roadside (where Ricky would reason once it's garbage it's not stealing) or found at the dump where
Ray
was residing. Ricky ran the business until sometime after
Cory, Trevor
and
Julian
provided him with an empty trailer ready for dope growing. A negative effect known toward this business for Ricky being constantly stung by bees and wasps as he smelled like garbage; a reason why he was also not allowed inside
Lucy
's trailer.
Ricky originally called this business Garbageland but Bubbles complained that the name was too similar to Kittyland and he didn't want people to think that he stole the naming concept from Ricky when it was clearly the opposite.
Ad blocker interference detected!
Wikia is a free-to-use site that makes money from advertising. We have a modified experience for viewers using ad blockers

Wikia is not accessible if you've made further modifications. Remove the custom ad blocker rule(s) and the page will load as expected.