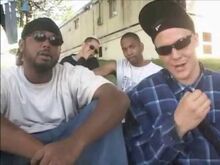 The Roc Pile is the group J-Roc started along with T. The group consists of other criminals that are 'gangster' and often are seen accompanying J-Roc and T. It is unclear on how many members there are. This group is seen providing extra help to Ricky, Julian, and Bubbles operations (usually providing the backup or 'muscle'). It is unknown when this group started.
Ad blocker interference detected!
Wikia is a free-to-use site that makes money from advertising. We have a modified experience for viewers using ad blockers

Wikia is not accessible if you've made further modifications. Remove the custom ad blocker rule(s) and the page will load as expected.