This article is about Sebastian as he is portrayed in the Show. For information about him from a real-world perspective, see Sebastian Bach (actor).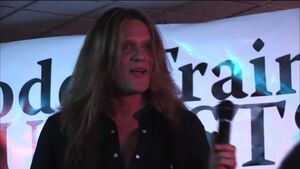 Sebastian Bach, the front man of American rock band Skid Row was featured during season 7 when he became a part of the boys' attempt to sell their large crop of marijuana in one transaction "Friends Of The Road". Sebastian Bach is known as a model train enthusiast and it was at a convention in Bangor, Maine where Bubbles, Julian and Ricky meet him for the first time.
After smoking some of Ricky's homemade dope, he is duly impressed and asks to buy more. It is soon after that Julian gets the idea to offload Ricky's entire crop of pot to the US using Sebastian as a go between.
He subsequently appears in the episodes "Let The Liquor Do The Thinking" and "Going Off The Rails On The Swayzie Train". Sebastian also shows up in behind the scenes footage of Season 8 on Day 19, where he is partying with the boys.
Ad blocker interference detected!
Wikia is a free-to-use site that makes money from advertising. We have a modified experience for viewers using ad blockers

Wikia is not accessible if you've made further modifications. Remove the custom ad blocker rule(s) and the page will load as expected.