Unreleased content

This article is about content that has yet to be released. Some of the information may be inaccurate or likely to change.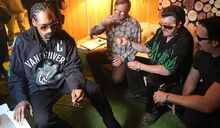 Season 10 of Trailer Park Boys wrapped up filming on July 3, 2015. The episode's aired on Netflix 3/28/2016.
This season is expected to be a little different than past seasons in that the boys will not start off in jail and they will actually be running their beloved home, Sunnyvale Trailer Park
Also, Trailer Park Boys Season 10 will be the first season with celebrity guest stars. Among those making appearances were: Comedian Doug Benson, Tom Arnold and, from the set of his show, Jimmy Kimmel. Snoop Dogg is also expected to make an appearance, as he has already appeared in some non-canon videos released on Swearnet including one of the Trailer Park Boys Podcasts where he participated through Skype.
Episode List
Edit
There are a total of 10 episodes for Season 10.
"Freedom 45?"
"You Want the Lot Fees, Suck Them Out the Tip of my Cock"
"A Three Tiered Shit Dyke"
"Shit Covered Cave Teeth"
"If you Don't Believe it, It's Not Real"
"All the Fuckin' Dope You Can Smoke!"
"Up in Smoke We Go"
"The Super Bling Cowboy"
Thugged out Gangsta Shit"
"Looks Like the Liquor Wins"
Ad blocker interference detected!
Wikia is a free-to-use site that makes money from advertising. We have a modified experience for viewers using ad blockers

Wikia is not accessible if you've made further modifications. Remove the custom ad blocker rule(s) and the page will load as expected.