"I am not the kind of person to say atoadaso, but you know what? Atoadaso, I-fucking-atoadaso!
I first started watching the Trailer Park Boys when the seventh season was just about finished on Showcase. I missed the whole fuckin' thing... but then again, it was better to be able to watch it all in one go, then have to wait each week for the next one, or all damn year for the next season. I ate this show up, and I couldn't stop watching it.
It's funny because when it was on the air, I'd be flipping channels and seeing this on the screen, and hearing a mass of profanity and thinking, "Damn. Who watches this shit?" But when my bud came over one day and brought the DVD, and said, "Dude, you have to watch this," I was skeptical, but i shouldn't have been. There is a lot more to this show than dope, swearing and chicken fingers.
The picture below is my Halloween costume for 2008. Unlike John Paul's, my glass had real rum in it :)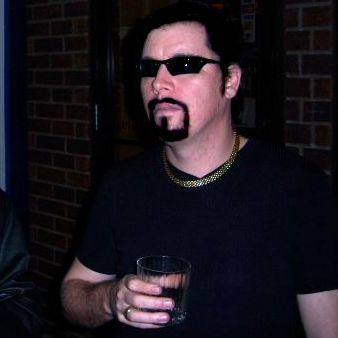 1 black elastic knit t-shirt - $5.99
1 fake gold chain - $4.99
1 crappy costume jewelry ring - $3.99
1 box Loreal black hair dye - $13.99
1 pair dark sunglasses - $6.99
1 pkg. 'pirate' makeup crayons - $2.99
My contributions
Some Pages I've Written from Scratch
My Trailer Park Life
Designer and perpetrator of
Trailer Park Boys Monopoly
(Unofficial)